The Parkdale Kidz Choir began rehearsals for its first musical in September 2010.
WIth two shows a year; one at Christmas and one in the Spring, we have already had the joy of presenting fifteen musicals and look forward to many more.
Our goal is to give children and youth, ages 4 to 15, an opportunity to develop their talent in acting, singing, dancing, and memorizing; to learn Biblical truths; and practice team work – there is something for everyone! Practices are scheduled every Thursday from 6:30-8:00 p.m. in the main auditorium of Parkdale Baptist Church.
Our next set of rehearsals will begin on January 25, 2018 in preparation for our Spring Musical, "Star Quest – Search for the Stolen Scriptures" The presentation date for this performance will be Saturday, June 2, 2018.

Please contact the church if you would like to enroll your kid(z) for this latest production.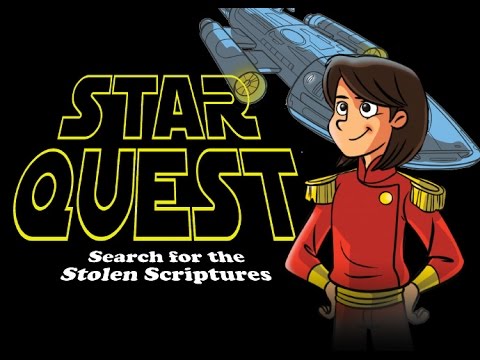 Star Quest – Search for the Stolen Scriptures
In a galaxy far away, and in a future not too distant, the crew of spaceship J-316 is on a mission: trekking through the galaxy, bringing the Word of God to people everywhere! In the future, all written communication is now sent and stored digitally–nothing is written on paper. The Bible is stored on the Intergalactic Bible Data Base, allowing all people access to God's Word. But there is a radical plot underway by a misguided, power-hungry ruler who is steadily erasing Scriptures from the database…Time is of the essence, and nothing in this world or beyond could be more important than making sure God's Word remains available to people throughout the galaxy!
Check out our Parkdale Kidz Choir Facebook group.


High in the mountains in the impenetrable Agape Fortress, General Agape has called the mighty Agape League together to solve a crisis in Suburbiana City! Calling on the super-powered fruits of the spirit available to every follower of Christ, these heroes must also face an enemy within their own ranks when Ironblade forgets his superhero identity (self control) and becomes entangled in the pervasive worldly culture. Things worsen when they learn that unless each member continues to exhibit their gifts, the entire group faces the same fate! Will the League recover their powers? Will the citizens of Suburbia City be saved? Will the source of true power – God's Word – finally be utilized before time runs out? – See more at: http://wordmusic.com/kids/the-agape-league.html?eml=131217/AskChristy/word/kids_staff/newproduct/product/covimg/us/the-agape-league&eml=2013December17/1121825/6126777#sthash.U0puWo2A.dpuf
High in the mountains in the impenetrable Agape Fortress, General Agape has called the mighty Agape League together to solve a crisis in Suburbiana City! Calling on the super-powered fruits of the spirit available to every follower of Christ, these heroes must also face an enemy within their own ranks when Ironblade forgets his superhero identity (self control) and becomes entangled in the pervasive worldly culture. Things worsen when they learn that unless each member continues to exhibit their gifts, the entire group faces the same fate! Will the League recover their powers? Will the citizens of Suburbia City be saved? Will the source of true power – God's Word – finally be utilized before time runs out? – See more at: http://wordmusic.com/kids/the-agape-league.html?eml=131217/AskChristy/word/kids_staff/newproduct/product/covimg/us/the-agape-league&eml=2013December17/1121825/6126777#sthash.U0puWo2A.dpuf
High in the mountains in the impenetrable Agape Fortress, General Agape has called the mighty Agape League together to solve a crisis in Suburbiana City! Calling on the super-powered fruits of the spirit available to every follower of Christ, these heroes must also face an enemy within their own ranks when Ironblade forgets his superhero identity (self control) and becomes entangled in the pervasive worldly culture. Things worsen when they learn that unless each member continues to exhibit their gifts, the entire group faces the same fate! Will the League recover their powers? Will the citizens of Suburbia City be saved? Will the source of true power – God's Word – finally be utilized before time runs out? – See more at: http://wordmusic.com/kids/the-agape-league.html?eml=131217/AskChristy/word/kids_staff/newproduct/product/covimg/us/the-agape-league&eml=2013December17/1121825/6126777#sthash.U0puWo2A.dpuf