Taking our cue from a successful program at Brookside Baptist Church (Kanata) and initially using their many resources and support, in September 2010 we began our Kidz Choir in the Parkdale center-town area.
Our goal is to give children and youth, ages 4 to 15, an opportunity to develop their talent in acting, singing, dancing, and memorizing; to learn Biblical truths; and practice team work – there is something for everyone! Practices are scheduled every Thursday from 6:30-8:00 p.m. in the main auditorium of Parkdale Baptist Church.
Our next set of rehearsals will begin in September 2017 in preparation for our Christmas Musical, "Christmas at Bethlehem Gulch  – An "Old West" Children's Musical about the Coming of the Savior" The presentation date for this performance TBD.

Please contact the church if you would like to enroll your kid(z) for this latest production.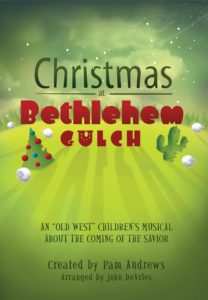 Christmas at Bethlehem Gulch
A group of kids arrive at Bethlehem Gulch for their annual Christmas party. Things are going great until the children realize that they are not on a horse and cattle ranch; they have mistakenly chosen a sheep ranch for their Christmas celebration. Miss Diane, the owner of the ranch, shares the message of Christ's birth, and Robert, one lost and lonely child, finds the best Christmas gift ever… Jesus.
Check out our Parkdale Kidz Choir Facebook group.


High in the mountains in the impenetrable Agape Fortress, General Agape has called the mighty Agape League together to solve a crisis in Suburbiana City! Calling on the super-powered fruits of the spirit available to every follower of Christ, these heroes must also face an enemy within their own ranks when Ironblade forgets his superhero identity (self control) and becomes entangled in the pervasive worldly culture. Things worsen when they learn that unless each member continues to exhibit their gifts, the entire group faces the same fate! Will the League recover their powers? Will the citizens of Suburbia City be saved? Will the source of true power – God's Word – finally be utilized before time runs out? – See more at: http://wordmusic.com/kids/the-agape-league.html?eml=131217/AskChristy/word/kids_staff/newproduct/product/covimg/us/the-agape-league&eml=2013December17/1121825/6126777#sthash.U0puWo2A.dpuf
High in the mountains in the impenetrable Agape Fortress, General Agape has called the mighty Agape League together to solve a crisis in Suburbiana City! Calling on the super-powered fruits of the spirit available to every follower of Christ, these heroes must also face an enemy within their own ranks when Ironblade forgets his superhero identity (self control) and becomes entangled in the pervasive worldly culture. Things worsen when they learn that unless each member continues to exhibit their gifts, the entire group faces the same fate! Will the League recover their powers? Will the citizens of Suburbia City be saved? Will the source of true power – God's Word – finally be utilized before time runs out? – See more at: http://wordmusic.com/kids/the-agape-league.html?eml=131217/AskChristy/word/kids_staff/newproduct/product/covimg/us/the-agape-league&eml=2013December17/1121825/6126777#sthash.U0puWo2A.dpuf
High in the mountains in the impenetrable Agape Fortress, General Agape has called the mighty Agape League together to solve a crisis in Suburbiana City! Calling on the super-powered fruits of the spirit available to every follower of Christ, these heroes must also face an enemy within their own ranks when Ironblade forgets his superhero identity (self control) and becomes entangled in the pervasive worldly culture. Things worsen when they learn that unless each member continues to exhibit their gifts, the entire group faces the same fate! Will the League recover their powers? Will the citizens of Suburbia City be saved? Will the source of true power – God's Word – finally be utilized before time runs out? – See more at: http://wordmusic.com/kids/the-agape-league.html?eml=131217/AskChristy/word/kids_staff/newproduct/product/covimg/us/the-agape-league&eml=2013December17/1121825/6126777#sthash.U0puWo2A.dpuf