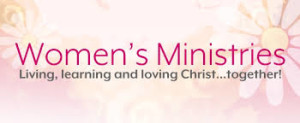 Ladies Fellowship
Our ladies fellowship meets once a month (usually the 3rd or 4th Saturday) from September till June. We meet either for a breakfast or light lunch combined with various activities. These may include a Bible study, sharing & prayer time, singing, crafts, or a special presentation/demonstration.
We also participate in several on-going community/mission projects including: Jabez Blanket Ministry for orphans and First Place Options.

New since 2013 — Secret Sisters: a ministry of prayer and encouragement. Click here for a printable copy of the  "All About Me" form that ladies can fill out if they want to join this ministry, Deadline is February 28th.

OVA Ladies Retreat – May 25th-27th, 2018 at Galilee Bible Camp near Renfrew

This weekend retreat has been especially planned for the women of the Ottawa Valley Association of Fellowship Baptist Churches and their guests. It is a wonderful opportunity for women from "the Valley" to come together as sisters in Christ. The registration deadline is May 21, 2018.
Click here for our online registration.